Jan
24


Polyboard 7.08v Multilingual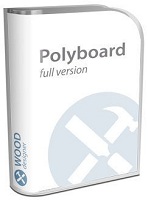 Description: PolyBoard is an interactive design and manufacturing cabinet software, based on a powerful methological concept. PolyBoard supports arborescent cabinet structures, dynamic material styles and manufacturing methods lists, and recalculates cabinets in real time.
As modifications proceed, PolyBoard redraws the cabinet in 2D and 3D, and recalculates its cutting list and toolings, in relation to :
– The cabinet dimensions, including slopes and unboxings.
– The divisions structure (uprights and shelves), the doors and drawers.
– The manufacturing method : side master, top master, or mitre joint, applied, rabetted, or slotted back, recesses, overlaps, hardware, regular drilling groups (type 32), etc …
– The material, the edges, and the frames style of each cabinet component.
– PolyBoard supports parametric fitting links, and edits a global hardware summary as well as a tooling map (drillings and groovings) for each of the cabinet components.
– PolyBoard's Post_Processing export function is compatible with most CNC tooling machines.
2D & 3D Views :
– PolyBoard displays the three cabinet 2D views (front, top, and side), and a 3D rendering in relation to material colors and textures.
– The PolyBoard built-in 3D function offers several predefined views, and various zoom and rotation tools, which help setting the wished 3D view.
– PolyBoard also offers a DXF 3D_Face export function, compatible with most CAD software, such as AutoCad, VectorWorks, KitchenDraw, etc …
Slopes and Unboxings :
With PolyBoard you may design :
– Front sloped cabinets, up to 3 different angles in front view.
– Side sloped cabinets.
– Rear left or rear right unboxed cabinets.
Release Name: Polyboard 7.08v Multilingual
Size: 16.6 MB
Links: HOMEPAGE – NFO – Torrent Search
Download: UPLOADGiG – NiTROFLARE – RAPiDGATOR